Section » About
The Yahoo Finance website reported that Rocky Mountain Institute (RMI) and Emerald Technology Ventures are entering a partnership to accelerate decarbonization and the global energy transformation. The partnership aims to support the identification and development of successful startups and form an open innovation community with a select group of the
Comments Off on RMI and Emerald Partner to Build an Open Innovation Community • Read this story »
More Articles
The EINPresswire reported that The Center for Advancing Innovation (CAI) has launched the Innovate Children's Health Challenge, an open innovation contest to advance high-impact solutions to improve children's health globally. The Innovate Children's Health Challenge will launch 15+ startups to
Comments Off on The Center for Advancing Innovation Launches the Innovate Children's Health Challenge to Improve Children's Health • Read this story »
The arXiv.org website noted that until recently, mobile/cellular technologies have been developed through closed innovation, and the stronghold of telecommunication vendors and infrastructure providers. An unprecedented development is the emerging ecosystem of open innovation around 5G hardware and software.
Comments Off on Private 5G: The Future of Industrial Wireless • Read this story »
The Harvard Business Review posted a very useful article which discussed a number of challenges encountered in implementing open innovation and how they can be overcome. The article noted that while concerns over intellectual property, return on investments, and various unforeseen consequences of open
Comments Off on Why Now Is the Time for "Open Innovation" • Read this story »
The Nasdaq website stated that Nasdaq's goal is to tread a path of continuous innovation, so we'll survive and thrive well into the future. There's a wealth of evidence that suggests growth through innovation leads to superior performance. We work very closely together to fund strategic innovation
Comments Off on Investing In Innovation • Read this story »
The Businesswire website reported that Arthur D. Little (ADL) has acquired Cutter Consortium, a business technology research company based in the US, and Presans, a leading player in industrial open innovation based in France. "Arthur D. Little applies an 'open consulting' and 'open problem solving'
Comments Off on Arthur D. Little Acquires Cutter Consortium and Presans to Expand Open Consulting Capabilities • Read this story »
The Oxford Research Encyclopedia posted an article which noted that starting from early 21st century, companies increasingly use open innovation challenges to generate creative solutions to business problems. This revolution in business models and management strategy reflects the evolution supported
Comments Off on Innovation Challenges • Read this story »
The National Retail Federation reported that Rothy's Open Innovation Coalition was developed in response to needs from the developing coronavirus and has illustrated the ability of brands to act quickly, evaluate resources and come up with solutions. Although the current concerns are health and safety,
Comments Off on Rothy's Open Innovation Coalition Leads Business Collaboration for COVID-19 Relief • Read this story »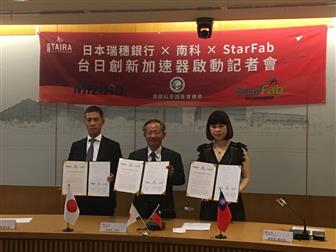 The Digitimes website reported that Taiwan AI Robotics Accelerator (TAIRA)  Japan-based Mizuhu Bank and thematic incubation service provider StarFab Accelerator have signed a Memorandum of Understanding for cooperation to set up an open accelerating platform for startup teams and businesses to develop
Comments Off on TAIRA, Mizuhu Bank, StarFab to Set Up Open Innovation Platform • Read this story »
The Springer website posted an analysis which studied trends and tendencies relative to Apple and Xiaomi, two completely different companies with completely different approaches. Apple uses an incremental innovation sales strategy, based on the billions of euros used in secret research and development.
Comments Off on Closed Against Open Innovation: A Comparison Between Apple and Xiaomi • Read this story »