Section » In Practice
The Light Reading website reported that the 5G Open Innovation Lab, a global ecosystem of developers, start-ups, enterprises, academia and government institutions, announced the opening of its lab and launch of its inaugural program for start-ups and their founders with the selection of its first cohort of companies utilizing 5G technology for the development
Comments Off on Intel, NASA, T-Mobile Team Up for 5G Open Innovation Lab • Read this story »
More Articles
3W Market News reported that Toyota Research Institute-Advanced Development, launched in 2018, is a software and technology company aimed at developing fully-integrated software for automated driving. Launched in 2017, Toyota Next is an open innovation program that promotes development of new products
Comments Off on Toyota Report – Growth, Analysis and Forecast of 2025 • Read this story »
The Yahoo Finance website reported that Rocky Mountain Institute (RMI) and Emerald Technology Ventures are entering a partnership to accelerate decarbonization and the global energy transformation. The partnership aims to support the identification and development of successful startups and form an open
Comments Off on RMI and Emerald Partner to Build an Open Innovation Community • Read this story »
The EINPresswire reported that The Center for Advancing Innovation (CAI) has launched the Innovate Children's Health Challenge, an open innovation contest to advance high-impact solutions to improve children's health globally. The Innovate Children's Health Challenge will launch 15+ startups to
Comments Off on The Center for Advancing Innovation Launches the Innovate Children's Health Challenge to Improve Children's Health • Read this story »
The Nasdaq website stated that Nasdaq's goal is to tread a path of continuous innovation, so we'll survive and thrive well into the future. There's a wealth of evidence that suggests growth through innovation leads to superior performance. We work very closely together to fund strategic innovation
Comments Off on Investing In Innovation • Read this story »
The Businesswire website reported that Arthur D. Little (ADL) has acquired Cutter Consortium, a business technology research company based in the US, and Presans, a leading player in industrial open innovation based in France. "Arthur D. Little applies an 'open consulting' and 'open problem solving'
Comments Off on Arthur D. Little Acquires Cutter Consortium and Presans to Expand Open Consulting Capabilities • Read this story »
The National Retail Federation reported that Rothy's Open Innovation Coalition was developed in response to needs from the developing coronavirus and has illustrated the ability of brands to act quickly, evaluate resources and come up with solutions. Although the current concerns are health and safety,
Comments Off on Rothy's Open Innovation Coalition Leads Business Collaboration for COVID-19 Relief • Read this story »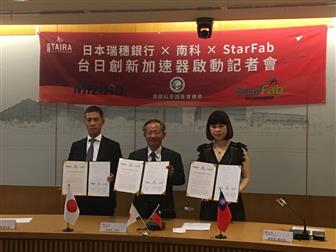 The Digitimes website reported that Taiwan AI Robotics Accelerator (TAIRA)  Japan-based Mizuhu Bank and thematic incubation service provider StarFab Accelerator have signed a Memorandum of Understanding for cooperation to set up an open accelerating platform for startup teams and businesses to develop
Comments Off on TAIRA, Mizuhu Bank, StarFab to Set Up Open Innovation Platform • Read this story »
The Springer website posted an analysis which studied trends and tendencies relative to Apple and Xiaomi, two completely different companies with completely different approaches. Apple uses an incremental innovation sales strategy, based on the billions of euros used in secret research and development.
Comments Off on Closed Against Open Innovation: A Comparison Between Apple and Xiaomi • Read this story »
The Tech Portal website reported that Microsoft and local stakeholders will launch a Sustainability Alliance committed to delivering technology solutions that help public and private sectors create solutions to improve sustainability in Italy. The Sustainability Alliance will support the national New
Comments Off on Microsoft Plans $1.5 Billion Investment in Its Cloud Datacenter in Italy • Read this story »