Section » Open Innovation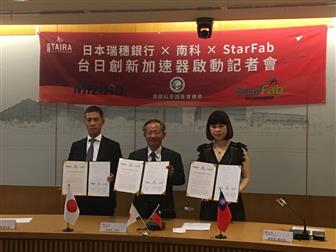 The Digitimes website reported that Taiwan AI Robotics Accelerator (TAIRA)  Japan-based Mizuhu Bank and thematic incubation service provider StarFab Accelerator have signed a Memorandum of Understanding for cooperation to set up an open accelerating platform for startup teams and businesses to develop innovative products or services. The open accelerating
Comments Off on TAIRA, Mizuhu Bank, StarFab to Set Up Open Innovation Platform • Read this story »
More Articles
The Springer website posted an analysis which studied trends and tendencies relative to Apple and Xiaomi, two completely different companies with completely different approaches. Apple uses an incremental innovation sales strategy, based on the billions of euros used in secret research and development.
Comments Off on Closed Against Open Innovation: A Comparison Between Apple and Xiaomi • Read this story »
The Asia One website posted an article which noted that companies, organisations and individuals alike are dealing with various challenges that arose from Covid-19 and the public health response, as well as the resulting economic impact. Finding solutions to these problems sometimes require the pooling
Comments Off on Finding New Solutions to Shared Challenges via National Innovation Challenges • Read this story »
The Journal of Open Innovation posted an study which noted that according to the WHO Global Digital Health Strategy 2020–2024, we should advocate people-centered health systems, promote global collaboration and strengthen the governance of global digital health practices. Although both practice and
Comments Off on Success Factors of Demand-Driven Open Innovation as a Policy Instrument in the Healthcare Industry • Read this story »
The Tech Portal website reported that Microsoft and local stakeholders will launch a Sustainability Alliance committed to delivering technology solutions that help public and private sectors create solutions to improve sustainability in Italy. The Sustainability Alliance will support the national New
Comments Off on Microsoft Plans $1.5 Billion Investment in Its Cloud Datacenter in Italy • Read this story »
The PR Newswire reported that the 5G Open Innovation Lab, a global ecosystem of developers, start-ups, enterprises, academia and government institutions, announced the opening of its lab and launch of its inaugural program for start-ups and their founders with the selection of its first cohort of companies
Comments Off on 5G Open Innovation Lab Launches Inaugural Program for Start-Ups • Read this story »
The Springer website posted a study which aims to sort out and to analyze the development and evolution of a latest hot area, open innovation from the perspective of network embedding. A dataset of 1437 records published between 1990 and 2019 was collected from Web of Science database. The empirical
Comments Off on Open Innovation from the Perspective of Network Embedding • Read this story »
The Industrial Marketing Management website noted that sustainability represents a 'grand challenge', which can often not be addressed by actions of individuals or single organizations alone. To understand collaborative sustainability activities, the authors propose the concept of open sustainability.
Comments Off on Open Sustainability: Conceptualization and Considerations • Read this story »
The MIT Sloan Management Review noted that innovating with external partners doesn't always give companies a competitive advantage. It needs to be balanced with internal efforts. Most companies, our research suggests, should rethink their innovation systems and develop portfolios with a balance of
Comments Off on Why Innovation's Future Isn't (Just) Open • Read this story »
The Nextgov website reported that the Technology Transformation Service—the IT-focused arm of the General Services Administration's Federal Acquisition Service issued a request for quotes searching for program management support for GSA's Open Innovation Program, which manages two public-focused
Comments Off on GSA Seeks Support for Challenge Sites • Read this story »